Female Patient Modesty
It is usually easier for female patients to get their wishes for female nurses to do intimate procedures such as urinary catheterizations on them since there are many more female nurses than male nurses. There are usuaully no male nurses in Labor & Delivery units at many hospitals so female patients who go through childbirth can often be assured that they would only have female nurses.
Many hospitals especially in rural areas cannot guarantee a woman that she would have a female ob/gyn deliver her baby if she wishes to because they often have more male ob/gyns or not enough female ob/gyns. For example, one hospital has two male ob/gyns and two female ob/gyns and that is a problem because all of the doctors are on call.
Some female gynecologists do not undersand how important modesty is to many women and their husbands. For example, one female ob/gyn invited some medical students to come in for a C-Section despite one woman's written request to not have any medical students present. Birth of a child is supposed to be a joyous time for both the woman and her husband. Modesty is often disregarded when a woman gives birth. Some people may assume women are too focused on the pain of childbirth to be concerned about modesty, but that is not true.

One lady and her husband requested an all female ob/gyn surgical team to be present for her hysterectomy. All of the medical professionals were female except for one male scrub. The lady saw him as she was being drugged. Just because you have a female gynecologist for your surgery, there is no guarantee that there will be no male medical professionals present. You must speak up about your wishes and request that they tell you who all will be present for your surgery. Check out OB/GYN Tips and the other related articles below.
Sometimes, ECG or other heart procedures can expose too much of a woman's breasts. This is rarely an issue with men because most of them don't care to be topless unless they have conditions such as gynecomastia. Some men with gynecomastia are embarrassed to be topless.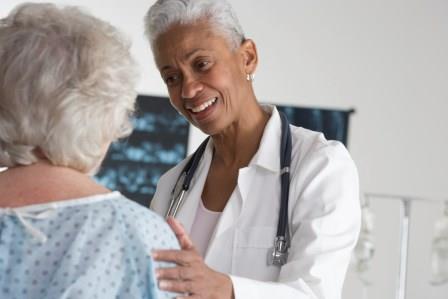 Related Articles About Female Patient Modesty:
How is Female Urinary Catheterizations Done?
Are Pap Smears Necessary For Virgins?
Concerns About Modesty During Hysterectomy
Why Are Hysterectomies Often Unnecessary?

Why HPV Vaccine Should Be Avoided?
What You Should Know About All-Female OB/Gyn Practices?
Why Women Should Avoid Male Doctors For Intimate Examinations?
Have You Been Referred to a Gynecologic Oncologist?
How Female Gynecologists Can Be More Sensitive to Women's Modesty?
Underwear Removal For Surgeries
Find an All-Female OB/GYN Practice