How Women Can Protect Themselves in Medical Settings Booklet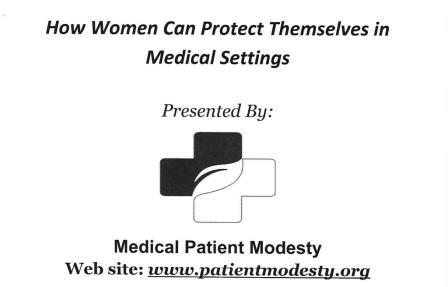 Medical Patient Modesty is distributing a 12-page booklet educating women about how they can protect themselves in medical settings with tips to prevent sexual abuse and modesty violations. The medical industry has become very gender and moral neutral and patients need safeguarding. In society, girls and women are specifically given tips to protect themselves from sexual abuse, but you rarely hear about preventing sexual abuse in medical settings. Sexual abuse in medical settings is more common than many people realize. We need to reach out to as many women as possible with this booklet. Look at the example of Dr. George Tyndall, a full-time gynecologist at University of Southern California's student health clinic for 27 years—who treated many female students and got away with abuse for a very long time.
We are selling our booklets in large quantities for people who want to distribute them to multiple women. We encourage college groups or anyone passionate about helping protect college girls to consider buying large quantities—such as 500-1,000 booklets—to distribute at a particular college. College students are most vulnerable.
The profits from our booklets will help to pay for shipping and booklet distribution, and to support Medical Patient Modesty's mission. The more money we secure, the more booklets we will be able to distribute.
Payment is by Paypal or check. There is a 2.9% Paypal (credit card) processing fee. At this time we ship in the United States only. We put 2.9% in the tax bracket. I If you live in another country, Alaska, or Hawaii, please and we will be happy to check on the cost of shipping.
If you have any questions or would like to order a different quanity of booklets not listed above, with information.
*Please join in our fundraiser on GoFundMe to distribute booklets to women. It's our goal to distribute 100,000 booklets before the end of this year. *